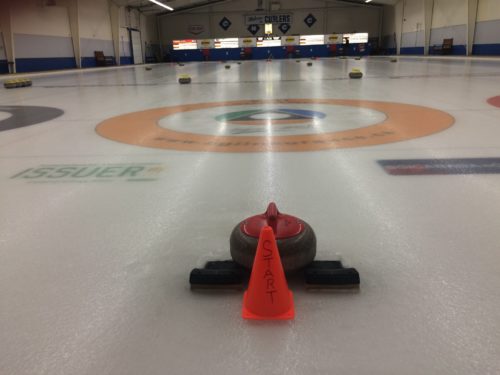 Want to try something New for your next company event or staff/family function?
Curling Golf is a unique rental option exclusive to the CN Curling Club. It combines the finesse of golf with the on-ice strategy of curling.
On a nine-hole, par 27 ice course, golfers use a stick to push their shots from a stationary position to the "green", while avoiding various hazards. A score is recorded for each hole. Each push of the rock is considered a stroke and the number of strokes per hole determines the score – just like golf.
The game is played in groups of four and a round takes just under an hour to complete.
It's a great event that will get everyone involved. With no sliders or sliding involved, even someone who has never curled can have immediate success with Curling Golf. Fun for all ages!!
Cost: $10/person, $200 minimum rental
Contact us for more information